Latest News
Added on 26.01.2018
Its all go on the County scene with the trials completed and Interleague entries all sorted.
The opening
Interleague
fixture is Friday February 9th followed on the Sunday (11th) by the opening
county
fixture.
These are soon followed by the
National County Finals
and England trials at Great Yarmouth commencing Feruary 28th through to March 4th.
County AGM
Added on 23.07.2017
The county have set the date for the 2018 AGM .All proposals for next year should be in the hands of the secretary by Sunday October 15th or via your league secretary.
County NEWS
Added on 24.05.2017
News from a recent EPA National meeting came that we will be setting up a Under 23 side, aimed away from the junior set up , 19 years old plus.
The county will be looking to recruit a team manager for this side or perhaps a player/manager.
Please speak to a SCPA committee member if you're interested in playing.
Also from that same meeting came news of the Senior set up changes. The seniors from 2018 will become a 7 man team, playing four sessions, 28 frames in total.
County singles championships
Added on 13.03.2017
The dates for the inaugural Staffordshire Championships has been set as follows:-
Men and Ladies ..
Saturday June 17th at Players
Registration 11.30 - 12 noon Start for men
Registration 11.45 - 12.15 Start for Ladies
All entries are £5 per player , all matches will be best of 7 . The winner of each event will qualify for the national finals
Men :- Player's Lounge Staffordshire 19th/20th August 2017
Ladies :- The Court Cambridgeshire 26th/27th August 2017
Juniors, Seniors and Under 23's
Sunday June 18th at Players
Registration 11.30 - 12 noon Start for all events
All entries are £5 per player , all matches will be best of 7 . The winner of each event will qualify for the national finals
Seniors:- Savannah's Manchester 3rd September 2017
Juniors :- Lennon's Derbyshire 26th/27th August 2017
Under 23 :- Club 147 Leicester 5th/6th August 2017
INTER county Finals report
Added on 08.03.2017
YARMOUTH 2017 REPORT
A massive congratulations and job well done to Stu Jones and Alex Bailey who are now ENGLAND INTERNATIONALS for the Seniors and Men's outfits after a successful qualifying campaign.
All the action kicked off on Thursday with the Seniors competition, and what a way to start off the weekend.....the 'experienced' staffs team brushed off tornament favourites West Yorkshire,who boasted 3 current England internationals, 13 - 6 after being level at 5 each at the half way stage.
Friday morning came with the Seniors second match, where they demolished Norfolk 13 - 4 to avoid the KO Cup.
Into the semis and a tasty clash with region 3 rivals West Mids A, after taking a 4 - 1 lead in the first session West Mids pulled our guys back to 5 all. Staffs took the next 2 sessions 3 - 2 leaving them 11 - 9 in front. Chris Bowers made it 12 setting up Paul Ward to take the Seniors into the final with Essex.
This was a tight affair which ebbed and flowed all the way to the end, our 'legends' didn't disappoint though, despite trailling 10-6 at one stage , they came through in true Staffs spirit to win 13-11 and the title of NATIONAL COUNTY CHAMPIONS 2017!!!
THE BAR HAD BEEN SET
While the Seniors were collecting their spoils the MENS B section got under way. Our side met a spirited Gloucester who kept up the pace with the score poised at 17 - 16 to Staffs. The B side did their usually trick and took 6 out of the next 8 frames to close out the match 23 - 18.
Onto Saturday and the MENS A, LADIES and JUNIORS continued the trend by winning all their matches, the A side 23 - 15 over Somerset, Ladies 23 - 18 over West Yorkshire and Juniors with a 23 - 15 win over Suffolk. All teams safely through to the Quarter Finals.
This is where we lost our first team of the weekend with the Juniors going into the KO Cup after a 23 - 15 defeat at the hands of a good London side. They next had to face Warwickshire in a match that finished around 10pm, with the score tied at 22, Staffs went into a 3 frame play off. Brad Peach's finish was cancelled out, leaving the score at 23 each, Ryan Dimarco was the unluckiest person in the room after knocking in a brilliant ball only to watch the white cut the opponents yellow in from nowhere! Warwickshire took the match and eventually the KO Cup title.
STAFFS DOWN BUT NOT OUT
Region 3 rivals West Mids met us in the A section with Staffs running out 23 - 17 winners, the B section saw Staffs overcome Essex 23 - 19, the Ladies are no longer welcome in Yorkshire after knocking out South Yorkshire 23 - 17.
Sunday and the Semi Finals and we lost our second team of the weekend with the Ladies coming up against eventual winners Lancashire. After losing the first session 7 - 4 our Ladies battled back to level the score at 11 all. The third session did the damage as Lancashire won it 8 - 3 and eventually the match 23 - 18.
STAFFS VS BERKSHIRE
In the MENS semi-finals it was an all Staffordshire v Berkshire showdown. Our B side took out the first session 9 - 2 in their match and never looked back, eventually running out 23 - 18.
Could the A join the B in reaching the final? Berkshire had knocked out our A side the last 2 years running and it looked as though that trend would continue as after 2 sessions Staffs were down 13 - 9. However in the third session our A side showed exactly what they are capable of, taking it 9 - 2 and knocking the belief out of Berkshire along with it, Staffs assured their place in the final, running out 23 - 17, banana skin disposed!
STAFFS A vs LANCASHIRE A
In the A final our team got off to a fantastic start and were leading 12 - 10 at the half way point. It was in the third session once again where the game changed! With the run of the balls fully against Staffs, they managed to stay in touch at 17 - 16 down going into the fourth session. The balls however did not change in favour of our lads and Lancashire knocked in clearance after clearance and took the match 23 - 17.
NATIONAL COUNTY RUNNERS UP – STAFFORDSHIRE MENS A.
STAFFS B vs NORTHANTS B
Going into this final Northants had yet to lose a session in the competition and Staffs were trying to defend their title, it was set to be a tight match. In the first session Northants led 5 - 4 and looked to continue their trend and take the session, however Lee Peach and Dave Shaw had other ideas and inflicted Northants first session defeat winning the last 2 frames to make it 6 - 5 to Staffs. This set our team up as they took the next two sessions also 6 - 5, at 18 - 15 up going into the final session, our team did their usual trick and stepped up a gear in the fourth, winning the next 5 in a row and taking the match 23 - 15, and successfully defending the title of
2017 NATIONAL COUNTY CHAMPIONS !!!
Many Thanks to Nick Wilshaw, B team captain for the report.
2017 Interleague fixtures
Added on 01.02.2017
The fixtures for the 2017 season are now available here on this website and will start on Friday February 24th ...
2017 COUNTY FIXTURES
Added on 01.01.2017
The fixtures for the 2017 season are available on the Region 3 website
COUNTY TEAM TRIALS
Added on 14.12.2016
The trial dates for the County Teams are as follows
Men: Saturday 14th January and Sunday 15th January
Ladies, Seniors and Juniors Sunday 8th January.
All will be taking place at Players 12noon start.
STAFFS SENIOR TRIALS
Added on 10.11.2016
The trials for the 2017 county Seniors will be held on Sunday January 8th at Players.
All players must register at 12 noon for a 12 15 start.
STAFFS OPEN 2017
Added on 02.11.2016
The 2017 Staffs Open at Players Pool Club this year goes ahead on Saturday 7th January ...All details, including how to get a discount on your entry fee ...are on the poster below ..
Golden Cue Format Change Proposal
Added on 19.09.2016
Proposed new format for Golden Cue 2017

Five person team, four players play in each match with one named reserve.

2 Singles, 2 Scotch Doubles, 2 singles, if the score is tied at 3-3 the two teams
play a one frame scotch doubles decider.

48 Groups of 3 Teams to play at 9-00am 10-00 am, and 11-00am

48 Groups of 3 teams to play at 12-00noon, 1-00pm, and 2-00pm

The 96 winning teams from above to play in 32 Groups of 3 at 3-00pm.

The 32 winning teams from above will play a K.O. Round, and the 16 winning
teams will go through to Sunday

All players in the teams who are eliminated in the 9-00am and 12-00 noon sessions,may enter the Singles competition which will commence on the remaining 24 Tables, at 3-00pm and will play through to the last 32 to go forward to Sunday.
county AGM news
Added on 01.09.2016
The 2017 SCPA AGM is to be held on Sunday November 27th at Longton Snooker with a 6pm Start.
All leagues must attend.
All interleague sides are requested to pick their bond money up.
Positions open for re-election are Secretary , Mens Team Manager, Junior Team Manager and Senior Team Manager.
All Proposals for rule changes etc and people applying for the positions stated above Must be In for Sunday October 16th in writing to the secretary.
Welcome
Added on 01.09.2016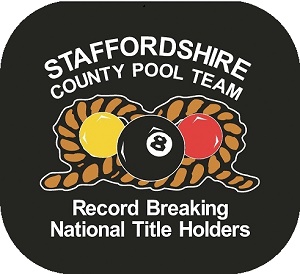 The new look website has been launched with a bit less links and more tied into the EPA site , no use doubling the workload.
As you can see, we have a new look badge for our county sides and obviously a new fresh look for their county shirts.
The county will also be introducing ,in line with the EPA a new county championship for all four sections, Men, Ladies, Juniors and Seniors. The champion in each event will get free entry into the national finals against other counties.
---
Staffordshire Pool Association
01.09.2016